Want to learn how a leading international manufacturer and supplier of advanced electronic components vastly improved their continuous improvement processes?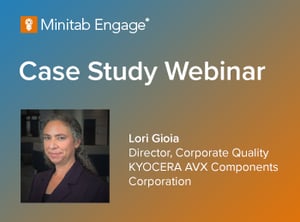 Watch our on-demand case study webinar to learn how KYOCERA AVX Components Corporation implemented Minitab Engage at over 30 plants around the world, giving the organization an end-to-end continuous improvement solution.
Watch the webinar to learn how to:
Standardize templates and trainings.
Implement practical Lean Six Sigma tools and methodologies.
Collaborate on CI projects with teams across the globe.
Easily build and manage dashboards for your CI projects.
Ready to learn more about using Minitab Engage to manage your continuous improvement initiatives? Watch on-demand.