Introducing Graph Builder: Visualizations Built to Move You Forward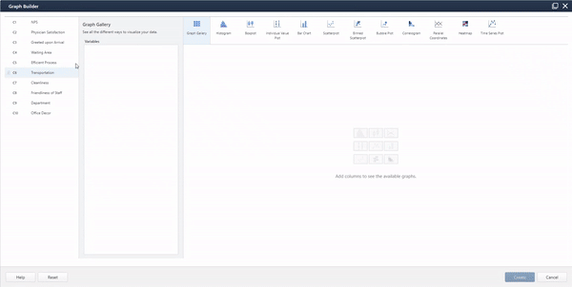 Date & Time: Monday, August 16 at 11:00 a.m. Hong Kong time / 12:00 p.m. Seoul & Tokyo time / 1:00 p.m. Sydney time / 3:00 p.m. Auckland time / 8:30 a.m. Bangalore time / 10:00 a.m. Bangkok time
Language: English | Duration: 30 minutes
---
They say seeing is believing. Visualizations have the power to persuade, communicate your findings, and show-off your achievements, but creating the right one can quite a bit of time and energy—until now.
Meet Graph Builder, our new tool to instantly visualize, create, and explore your insights.
With its interactive and easy-to-browse gallery, Graph Builder lets you seamlessly switch from one graph to the next using the same data and without re-running your analysis, so you can focus on choosing the right visual for your needs.
Ready to see Graph Builder in action? Join our webinar presented by Minitab Expert Ming Dong, Senior Analytics Consultant, as he showcases Graph Builder's capabilities in the latest release of Minitab Statistical Software with a few exciting and inspiring use cases.


Register Now
---
---
About the Presenter

Ming Dong

Senior Analytics Consultant, Minitab Pty Ltd

Ming Dong is one of only a handful of practitioners across the Asia Pacific Region to be a certified trainer for Minitab's flagship product, Minitab Statistical Software. Ming's formal qualifications include an undergraduate degree in Industrial Engineering Management, a Masters of Computer Science from the University of New South Wales, and a Masters of Applied Statistics from Macquarie University. In addition, Ming has broad business development experience, developed through his work in senior technical roles for large organisations such as Toshiba, OzEmail and National Computing Systems Singapore. As a university research officer at Macquarie University, he had several papers published in the field of Bioinformatics. His extensive business development and industry experience are the reason why Ming has been engaged by some of the world's largest mining, banking and medical devices companies, to provide consulting services in the application of data analysis.
---
Further Information & Resources
Interested in learning more on the latest release of Minitab Statistical Software? View What's New.

Looking for additional webinars? View our Events Page to see everything upcoming and on-demand.