Meet Minitab Engage: Your End-to-End Improvement Solution From Idea Generation Through Execution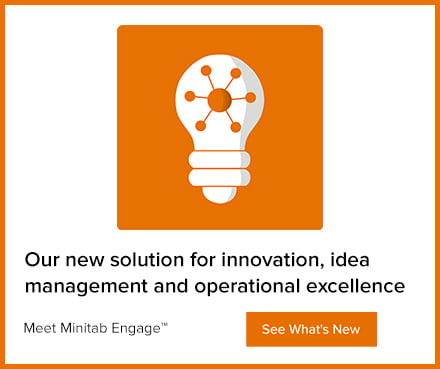 Language: English | Duration: 60 minutes
Innovation and idea management, and operational excellence are critical to organizational success now more than ever. Successful improvement programs rely on dedicated budget, innovative ideas and people to deliver necessary results, which need to be shared with stakeholders in a meaningful way.
Presented by our expert Mindy Tomlinson, Minitab Product Manager, this webinar replay will introduce you to Minitab Engage and highlight features to help you build improvement and innovation programs. Discover how Minitab Engage is the only solution designed to start, track, manage and share innovation and improvement initiatives from idea generation through execution.
Watch Now

About the Presenter
Mindy Tomlinson

Product Manager, Minitab LLC

• 15+ years designing, deploying, and supporting Minitab products
• Lead designer for Minitab Workspace and Minitab Engage
• MS in Statistics from Penn State University
Further Information & Resources
Looking for more webinars? View our Events Page to see everything upcoming and on-demand.